A history stretching back 65,000 years
"Aboriginal and Torres Strait Islander cultures are complex and diverse. The Indigenous cultures of Australia are the oldest living cultural history in the world – they go back at least 65,000 years. Indigenous communities keep their cultural heritage alive by passing their knowledge, arts, ceremonies and performances from one generation to another, speaking and teaching languages, protecting cultural materials, sacred and significant sites, and objects. For Indigenous Australians, the land is the core of all spirituality and this relationship and the spirit of 'Country' is central to the issues that are important to Indigenous people today." - Ngunnawal Elder, Tina Brown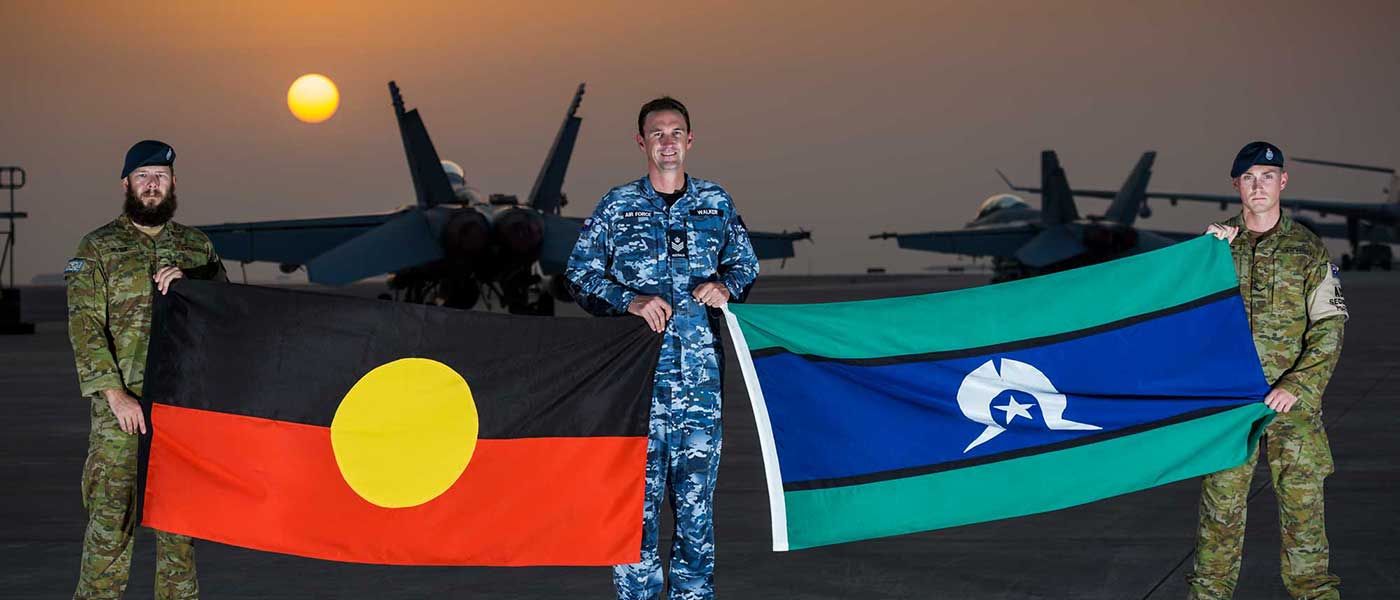 ​
Indigenous representatives of the Royal Australian Air Force and people of Wiradjuri country, Leading Aircraftmen Brent Irvine, left, and Jackson Saddler, right, proudly display the Aboriginal and Torres Strait Islander flags with Flight Sergeant Luke Walker during NAIDOC Week 2017 at the main air operating base in the Middle East region.
A growing awareness: The 10 year story
Over the past 10 years since the Closing the Gap targets were set, awareness and recognition of Indigenous cultures and the rich history of First Peoples' civilisation has grown considerably. Importantly, the value placed on culture by Indigenous Australians has extended to non-Indigenous Australians, across governments, businesses and the non-profit sector.
As respect for and appreciation of Aboriginal and Torres Strait Islander people and their cultures have deepened, practices that acknowledge Indigenous cultures have become far more a part of everyday life. Good practice has become far more common practice – the acknowledgement of Traditional Owners and "Welcome to Country" ceremonies at the start of functions and the flying of Aboriginal and Torres Strait Islander flags outside buildings such as council chambers. Appreciation and use of Indigenous languages among non-Indigenous Australians have also grown over the past 10 years – and in 2015, the Aboriginal Languages and Torres Strait Islander Languages Framework was added to the Australian Curriculum to support the teaching and learning of the languages indigenous to this country.
Reconciliation Action Plans are an important start for Australian organisations – corporate, non‑government and government – to increasingly demonstrate their commitment to reconciliation and recognition of Aboriginal and Torres Strait Islander people.
And in a more public way, Australia's leading sporting codes – including the Australian Football League and national Rugby League – have demonstrated their commitment to recognising the cultures of First Australians through dedicated Indigenous rounds.
All of these practices have combined over the past decade to help increase our nation's awareness and appreciation that Aboriginal and Torres Strait Islander cultures and civilisation remain critical to the story of our nation, a story enriched by a history going back at least 65,000 years.
Governments and Australia's wider society have heard the call from First Peoples to invest more heavily in the preservation, maintenance and revitalisation of Indigenous cultures. An example of this has been the Government's $10 million commitment in 2017 to protect, preserve and celebrate Indigenous languages. This amount was in addition to the ongoing funds of around $20 million already provided annually through the Indigenous Languages and Arts (ILA) programme. The new measure supports community-led initiatives that help revive, maintain and nurture Aboriginal and Torres Strait Islander languages.  Government will consult with stakeholders over the life of the measure, including sector peak bodies, Indigenous language centres and communities, and advisory bodies such as the Indigenous Advisory Council.
As part of the commitment to work in partnership with Indigenous communities, a National Indigenous Languages Convention will be held on 22-23 February 2018 to continue consultations, facilitate partnerships, and underpin a collaborative approach to the investment.  Discussions will address:
how digital innovation can enhance opportunities for language protection, preservation, and celebration;
how those working in the community can come together to revive and maintain languages with government and others, such as thought leaders, to inform policy direction; and
how to bring community languages workers together with industry stakeholders to explore opportunities for innovation and potential partnerships.
Indigenous interpreter services are critical to ensuring Aboriginal and Torres Strait Islander Australians are effectively engaged with and have equal access to government services and opportunities. The Government committed $6.96 million in 2016-17 and $5.17 million in 2017-18 to improve access to Indigenous interpreting services and to support an ongoing supply of a well-trained workforce through training and accreditation of Indigenous interpreters in the Northern Territory, South Australia, Western Australia and Queensland.
It is important to respect, recognise and invest in Aboriginal and Torres Strait Islander people's cultures. Aboriginal and Torres Strait Islander people have told us repeatedly that it is central to their lives, and identified culture as a key factor in improving and maintaining wellbeing. It shapes Indigenous identity, linking people to their community and country, and importantly is a contributing factor to health and wellbeing. 
The Australian Government is working towards a nation where the status of Aboriginal and Torres Strait Islander people as First Peoples is recognised and respected and the many dynamic aspects of Indigenous cultures are preserved, celebrated and embraced for the benefit of all.
Australia is continuing along a journey to recognise Aboriginal and Torres Strait Islander people in Australia's founding document, the Constitution. Achieving constitutional recognition remains a shared commitment between the Australian Government and Aboriginal and Torres Strait Islander people.
Building an understanding of Aboriginal and Torres Strait Islander cultures within the broader population is crucial to Indigenous people's health, social, economic and emotional wellbeing, and the overall unity and pride of our nation. The Prime Minister speaking in Ngunnawal language is just one of many ways in which the Government is demonstrating its respect for Indigenous languages and cultures on a national platform.
The Government is supporting Indigenous culture in a variety of ways, from National Aborigines and Islanders Day Observance Committee (NAIDOC) Week grants, to investing in the preservation of Indigenous languages and nurturing of Indigenous art.
The Government is also providing support for Indigenous rangers who work to improve environmental outcomes on country. Indigenous rangers are able to combine the traditional knowledge of Aboriginal and Torres Strait Islander people with modern science to protect and manage their land, sea and culture.
Supporting Indigenous Cultures
Through the Australian Government's $5 billion Indigenous Advancement Strategy and other initiatives, the Government is investing significantly in Indigenous cultures and language in recognition of the central role of culture in the lives of First Australians.
Each year, Aboriginal and Torres Strait achievement and culture is celebrated through the National NAIDOC Awards Ceremony. The Government supports communities throughout Australia to hold NAIDOC Week celebrations through a local grant round.
In 2017, more than $1.4 million in grants supported more than 550 local and regional NAIDOC Week events. The 2017 NAIDOC Week theme, Our Languages Matter, saw a nationwide focus on the importance of the preservation and practices of Aboriginal and Torres Strait Islander languages.
The 2018 NAIDOC Week theme, Because of Her, We Can!, will celebrate the vital role Indigenous women have played – and continue to play – in Australian society.
In 2017, the nation also celebrated several highly significant anniversaries: the 20th anniversary of the Bringing Them Home report, the 50th anniversary of 1967 referendum and the 25th anniversary of the historic Mabo decision. The Government invested $1.76 million to celebrate the 50th anniversary of the 1967 "yes" vote and the 25th anniversary of the Mabo decision during last year's National Reconciliation Week. The Government also announced the 1967 Referendum 50th Anniversary $138 million Indigenous Education Package.
The 1967 referendum and Mabo High Court decision are two of the most important moments in Australia's modern history. The 1967 referendum expanded Commonwealth powers to make laws relating to Indigenous Australians and meant that all First Australians were counted as part of the official population, while the Mabo High Court decision overturned the doctrine of terra nullius and paved the way for recognition of native title across many parts of Australia.
Activities to celebrate the anniversaries included a lunch in Canberra hosted by the Minister for Indigenous Affairs Nigel Scullion, $5,000 grants to local councils to help celebrate National Reconciliation Week, a gala lunch in Melbourne hosted by Reconciliation Australia and the Australian Football League, awareness-raising activities broadcasted by National Indigenous Television (NITV), community activities held in Townsville and Brisbane and a dinner in Sydney hosted by Reconciliation Australia.
In addition to these celebrations, a new stamp and 50-cent coin are now in circulation to celebrate the 50th anniversary of the "yes" vote. The coin also celebrates the 25th anniversary of the Mabo High Court decision.
The Australian Institute of Aboriginal and Torres Strait Islander Studies (AIATSIS) also partnered with the Australian Broadcasting Corporation and National State Libraries Australasia to create the Right Wrongs online exhibition which explores the lead-up, events and legacy of the 1967 referendum.
Through the Government's Indigenous Advancement Strategy, around $21.1 million is provided every year to the Indigenous broadcasting and media sector. More than 45 organisations and 120 licensed broadcasting services are supported, including remote, regional and urban radio stations, and Indigenous Community Television in remote Australia.
The sector strengthens opportunities for First Australians to share their cultures and languages, as well as access culturally relevant information and entertainment, including traditional and contemporary Indigenous music.
Another way the Australian Government recognises, respects and supports Aboriginal and Torres Strait Islander cultures is by investing in the cultural capability and competency of its staff through a wide range of training and development opportunities.  A foundational component of this is the 'Core Cultural Learning: Aboriginal and Torres Strait Islander Australia' (Core) online interactive course developed by AIATSIS in partnership with the Australian Government to strengthen the cultural capability of Commonwealth employees.  'Core' is available to all Australian Public Service employees and has surpassed 5,000 enrolments from more than 40 Commonwealth agencies. 
The Government also celebrates and preserves culture by funding cultural festivals, cultural exchange camps and programs, culture centres and hubs, heritage trails and the preservation and archiving of community collections. One of the most significant Aboriginal and Torres Strait Islander festivals supported by the Australian Government is the Garma festival, attracting more than 2,500 people from across Australia and overseas.  Garma is organised by the Yothu Yindi Foundation and has been instrumental in leading national conversations and debates about the rights, interests and cultural recognition of Aboriginal and Torres Strait Islander people for 19 years. The Australian Government has invested approximately $2.7 million in Garma since 2012-13.
Learning centre recognises two Indigenous defence members
In 2017, the Department of Defence created a state-of-the-art Learning Centre in Canberra aimed at providing an inclusive learning environment. During NAIDOC Week, Defence recognised the contribution of past Indigenous Defence members by naming two training rooms in the centre after Lance Sergeant William Charles Westbury and Private William Allan Irwin. Both men served in the Australian Army and saw active service in World War I, with Private Irwin making the ultimate sacrifice to his country with his life.
Defence also recognised Indigenous culture on operations overseas during NAIDOC Week in 2017. Indigenous military members raised the Aboriginal and Torres Strait Islander flags at Defence's main airbase in the Middle East region and conducted presentations on Indigenous culture to their Defence colleagues.
Preserving and strengthening Indigenous knowledge
AIATSIS continued its commitment to preserving and strengthening Indigenous knowledge, heritage and culture through the national collection, research and publishing.  The ongoing development and access to the collection was augmented by the Preserve Strengthen and Renew in Communities project that seeks to engage communities in the return and management of collection materials into the future. The Kiwikurra and Karajarri people participated in the project in 2017. 
AIATSIS also provided opportunities for Indigenous communities, research and public policy practitioners to engage with each other and move debates and practice forward.  In March 2017, the AIATSIS National Indigenous Research Conference, co-convened with the University of Canberra, focused on "impact, engagement and transformation" and investigated the capacity of research, policy and community to achieve change.  Similarly, the National Native Title Conference,
co-convened with the North Queensland Land Council, looked at the achievements and challenges of the past 25 years since the recognition of native title and included a strong focus on the maturing of governance of native title organisations and young people in the engagement in native title.
Supporting Indigenous art and languages
The Government recognises that Indigenous arts and languages are essential to the wellbeing and identity of Aboriginal and Torres Strait Islander people and play an integral role in ensuring the sustainability, vitality and strength of Indigenous communities.
Around $40 million is invested annually through the Indigenous Visual Arts Industry Support (IVAIS) and the Indigenous Languages and Arts (ILA) programs. These programs promote the sharing of language and culture between generations and the ongoing viability of Indigenous-owned enterprises, including investing in around 80 Indigenous owned art centres. They enrich the social, cultural and economic life of Indigenous communities and provide opportunities for Aboriginal and Torres Strait Islander people to generate income, gain employment, develop professional skills and participate in the nation's economy, while maintaining a continued connection to country and culture.
In addition, the Government committed a further $10 million over four years from 2016-17 to protect, preserve and celebrate Indigenous languages. As part of this, the Government is undertaking extensive consultations with Indigenous stakeholders on how to best deliver digital solutions and partnerships for ongoing capture and teaching of language, and developing career pathways for Indigenous language workers and linguists.
Showcasing Indigenous art overseas
The Australian Government supports initiatives that expose global audiences to Indigenous artists and performers.  For example, the Pormpuraaw Art and Culture Centre  exhibition, 'Ghostnets: Australian Indigenous Art, Culture and Sustainability', was on display at the Palais des Nations Building in Geneva, Switzerland, to coincide with the 36th session of the Human Rights Council in September 2017.
Additionally, the exhibition, 'Taba Naba – Australia, Oceania, Art of the Sea People', is the largest exhibition of contemporary Aboriginal and Torres Strait Islander art ever shown in continental Europe. The exhibition was displayed at the Oceanographic Museum, Monaco, and explored the relationship between Australia's Indigenous people and their environment. It was extremely successful, with 410,000 people from more than 78 countries visiting the exhibition. The exhibition also toured Paris, Geneva and Greenwich.
Indigenous rangers and Indigenous Protected Areas
The Government has committed $550 million for Indigenous rangers over seven years to 2020, including $30 million provided through the Capacity Building for Indigenous Rangers Strategy. More than $180 million has been committed for Indigenous Protected Areas over 10 years to 2023, including $15 million for new Indigenous Protected Areas. 
Together, the Indigenous rangers and Indigenous Protected Areas programs have created more than 2,500 jobs for First Australians through full-time, part-time and casual employment, as well as delivering important economic, social, cultural and environmental outcomes. About one-third of all ranger jobs are held by women.
As at 16 January 2018, funding was being provided to 66 organisations to support 118 ranger groups.
The Government's Indigenous Protected Areas and Indigenous Rangers programs empower Aboriginal and Torres Strait Islander people to manage their country in accordance with their priorities and to develop and strengthen their governance and management capacity. The programs also provide nationally accredited training and career pathways for Indigenous rangers in land and sea management. Through these programs, the Government helps to safeguard and promote the rights of future generations to enjoy and use their land in accordance with cultural obligations while providing a catalyst for economic development and employment opportunities into the future.
Australian Institute of Marine Science
In 2016, the Australian Institute of Marine Science (AIMS) developed and adopted an Aboriginal and Torres Strait Islander engagement strategy in close consultation with a number of Indigenous people and groups with an interest in sea country management.
The strategy builds on strong historical partnerships and relationships that AIMS has had with Traditional Owners, and provides a strategic corporate approach to Indigenous engagement. The Aboriginals and Torres Strait Islanders in Marine Science program provides Indigenous secondary students in North Queensland with opportunities to explore career options in marine science. 
Since the program was established by Dr Joseph Pollock in 2013, 199 students have participated in the immersive hands-on curriculum which blends traditional ecological knowledge with western science.  Students experience life as an Indigenous ranger alongside rangers from Girringun and Gudjuda.  They also experience life as a marine scientist alongside researchers from AIMS and James Cook University.
Constitutional recognition
The Australian Government is committed to recognising Aboriginal and Torres Strait Islander people in Australia's founding document – our Constitution.
Constitutional recognition would acknowledge our shared history and the value we place on our country's Aboriginal and Torres Strait Islander heritage. 
To facilitate progress towards constitutional recognition, Prime Minister Malcolm Turnbull and the Leader of the Opposition Bill Shorten, jointly appointed a Referendum Council in December 2015 to advise them on next steps towards a successful referendum.
The Referendum Council delivered its final report to the Prime Minister and the Leader of the Opposition on 30 June 2017. It recommended amending the Constitution to enshrine a First Nations representative body to provide a voice to the Australian Parliament, and a legislative Declaration of Recognition to acknowledge our Indigenous, multicultural and British heritage.
The Australian Government thoroughly considered the Referendum Council's recommendations. Although the Government remains committed to constitutional change, and to ensuring that Aboriginal and Torres Strait Islander people are properly involved in decision-making over their own affairs, it does not support a constitutional amendment to enshrine an Indigenous representative body that would inevitably be seen as a third chamber of parliament.
Constitutional change in Australia requires a high threshold of support – a majority of people in the majority of states – at a referendum and no controversial proposal has succeeded at a referendum since 1946. Only eight of 44 referendums have succeeded – the last in 1977. The Government believes this proposal would not gain this level of support, and that a failed referendum would be a huge setback in Australia's reconciliation journey.
The Government remains committed to recognising Aboriginal and Torres Strait Islander people in the Australian Constitution. On 26 October 2017, the Prime Minister wrote to the Leader of the Opposition proposing the establishment of a Joint Select Committee to consider the recommendations of all of the existing bodies of work developed by the Expert Panel on Recognising Aboriginal and Torres Strait Islander Peoples in the Constitution (2012), the Joint Select Committee on Recognition of Aboriginal and Torres Strait Islander Peoples (2015) and the Referendum Council (2017).
Local solutions
Mungo Man returned to country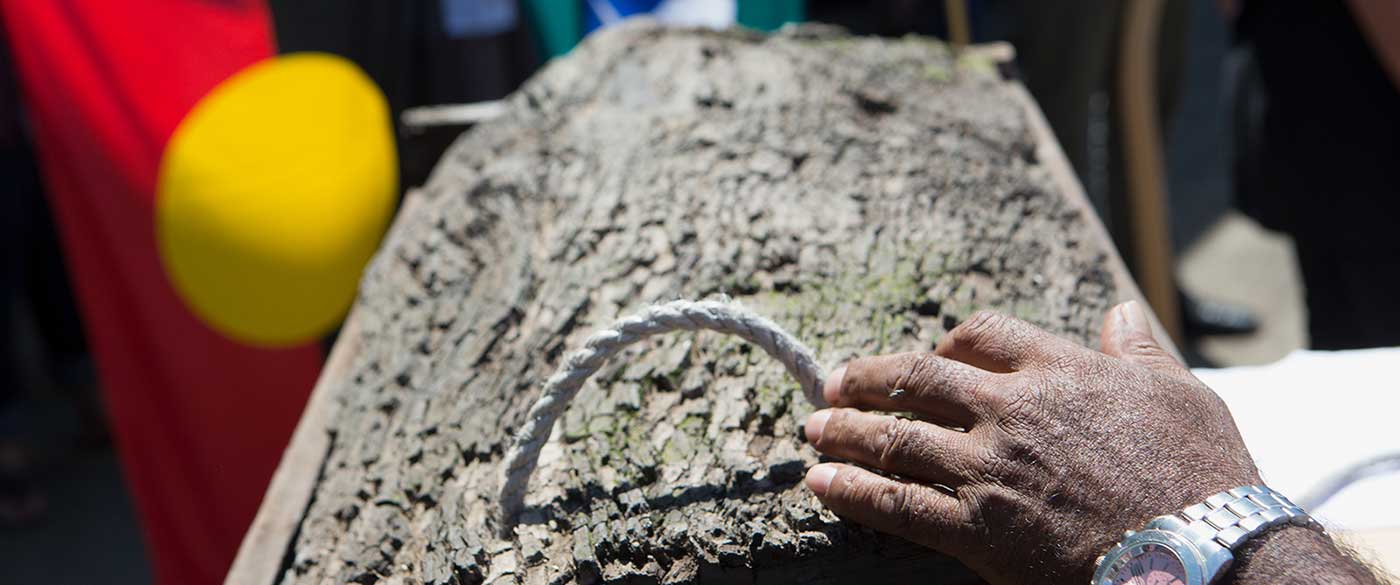 ​
More local solutions are available on the resources page.